Biomass District Heating as a Sustainable Solution for Decarbonizing Communities in Nova Scotia, Canada
Discover how TorchLight Bioresources is revolutionizing sustainable energy in Nova Scotia, Canada. By challenging traditional heating solutions and exploring the potential of biomass, they aim to decarbonize communities while lowering costs and boosting the local economy. With the help of cutting-edge software like Comsof Heat, they have streamlined the design process, saving valuable time and resources, and paving the way for a greener future in Canada.
Canada's Energy Crisis and the Importance of Decarbonization
Despite the abundance of energy resources within its borders, energy prices in Canada are on the rise as a result of the global energy crisis, carbon pricing, and the investments required to update energy systems and meet climate change goals. The uneven distribution of energy resources across the country combined with provincial regulatory jurisdiction of most energy systems has created remarkable diversity in provincial energy sources and prices across the country.
While natural gas is the most common heating fuel in Western Canada and Ontario, availability in the Atlantic Provinces of Nova Scotia and New Brunswick is limited and the price is high (the remaining Atlantic Provinces of Newfoundland and Labrador and Prince Edward Island completely lack natural gas distribution systems). As a result, communities across much of Atlantic Canada, including those in Nova Scotia, continue to rely heavily on imported, carbon-intense heating oil and propane for space heating and hot water. This reliance on imported fuel oil and propane causes a massive cash drain from the provincial economy and has prompted building owners to seek lower cost and lower carbon alternatives for building heat.
Heat pumps are a commonly proposed solution for reducing heating costs and emissions but in Nova Scotia, the electricity required to power heat pumps is high carbon, with approximately 50% of electricity generated in the province from coal. This limits the emissions benefits of electrification. Further compounding the energy challenge in Nova Scotia, the Government of Canada has legislated electricity generation emissions limits that prevent the use of coal in 2030 and beyond..
Considering these challenges, TorchLight Bioresources is proactively exploring the use of biomass as a sustainable solution for decarbonizing building heat energy to reduce greenhouse gas emissions, lower costs for residents and businesses, and ensure energy generation adds value to the provincial economy instead of acting as a cash drain.
In pursuit of a sustainable solution to decarbonize thermal energy, TorchLight Bioresources is conducting a feasibility study for a community-wide biomass district energy system in Nova Scotia, Canada. While heat pumps have traditionally been viewed as the most promising solution, the company is challenging this notion by exploring the use of biomass. This approach, common in Nordic countries and Austria but rare in Canada, could be a game-changer for Nova Scotia, particularly for rural communities with abundant biomass resources.
Collaboration with Rural Communities in Nova Scotia for Feasibility Study
TorchLight Bioresources has identified several rural communities in Nova Scotia as attractive locations for biomass district heating projects, as in addition to the energy challenges described, there is a sufficient density of population and biomass resources to make the project viable. With the support of these communities, and the province, TorchLight Bioresources hopes to demonstrate that biomass can serve as a sustainable solution for decarbonizing building heat while co-generating valuable biopower to decarbonize the provincial electricity grid.
The success of the project in Nova Scotia could pave the way for the adoption of this approach in other communities across Canada. This, in turn, would contribute significantly to the reduction of carbon emissions and help Canada move towards a more sustainable future.
Despite the potential benefits of district heating systems, this sector is relatively underdeveloped in Canada. Unlike other Nordic countries, where it is common for entire towns, including detached homes, to be connected to a heat network, most district heating systems currently in operation in Canada are steam systems heating universities, military bases, colleges, and the high-density downtown of major cities like Toronto. TorchLight Bioresources hopes to use the results from their feasibility study in Nova Scotia to apply for infrastructure funding and demonstrate the viability of this approach for Canadian communities.
Dr. Jean Blair, TorchLight's Director of Planning and Outreach, and her team at TorchLight Bioresources aim to show how switching to local biomass can lead to significant cost savings compared to using imported heating oil, while also supporting sustainable forestry and the regional economy. However, mapping out a district heat network for each building in a community can be a time-consuming process, especially in larger communities. To aid in this process, Dr. Blair and her team needed a tool to help them map out their network plans.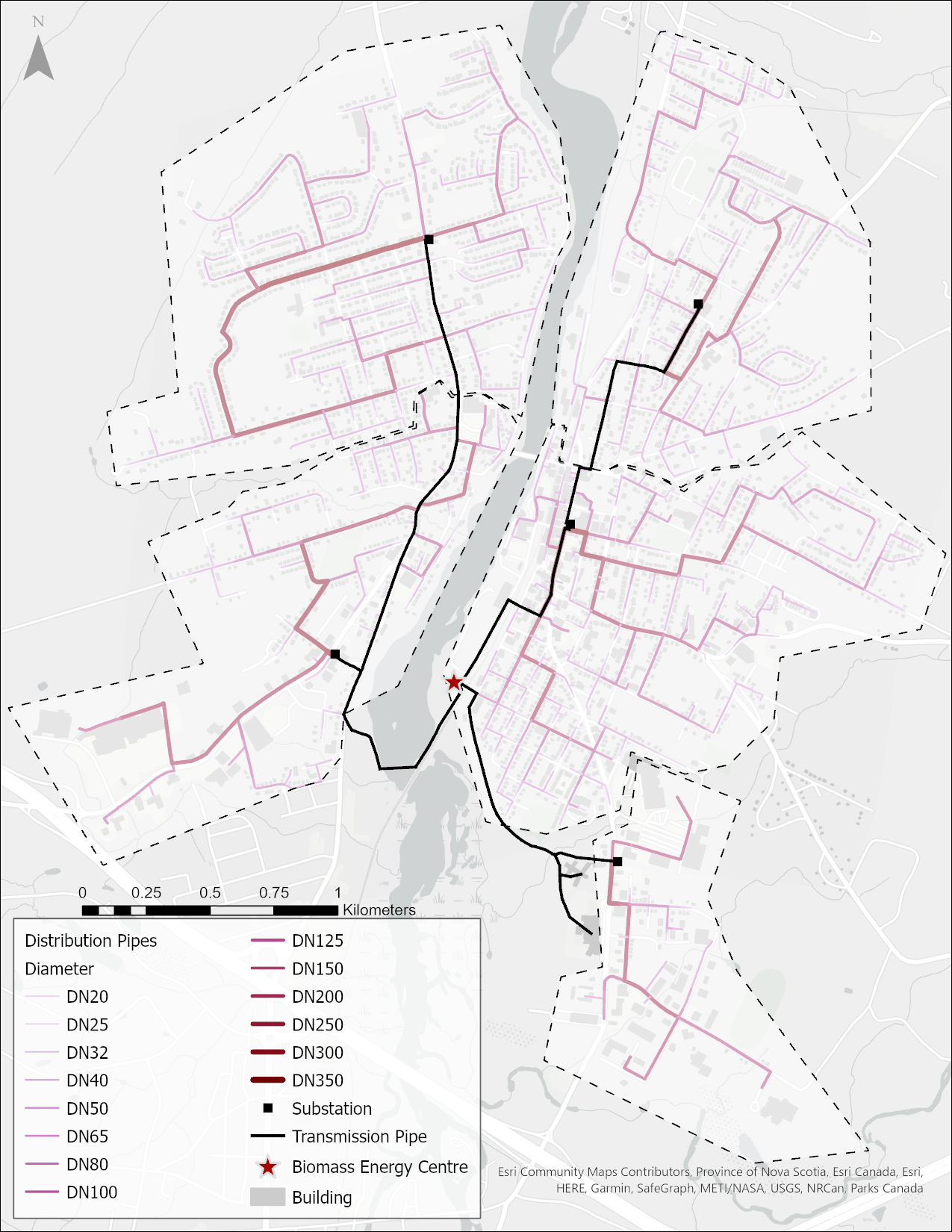 Map showing a concept for the Town-wide heat network in New Glasgow.
The Role of Comsof Heat in Torchlight Bioresources' Feasibility Study
"We were awarded funding for a town-wide feasibility study, but I quickly realized it was going to be a lot of work to map out a network manually for 3,500 buildings," said Dr. Blair. "The Managing Director at Torchlight Bioresources saw Comsof mentioned in a presentation and suggested we investigate it." After speaking with Kurt Marlein, Product Manager for Comsof Heat, and seeing the software's capabilities, she was convinced that Comsof Heat was the right choice for their needs.
Comsof Heat was chosen for the feasibility study because of its user-friendly nature and seamless integration with Termis Engineering, the software used by their engineering partner Rathco ENG. By using Comsof Heat, TorchLight Bioresources was able to create a highly detailed and accurate map of the district heating network for New Glasgow, Nova Scotia allowing them to develop a comprehensive plan for the project. "I would have spent months designing this, but with the software, it cut down the network design time by at least 80%," said Jean.
In addition to saving time, the software's ability to model different scenarios and incorporate data from multiple sources has been crucial in developing a flexible and adaptable plan for the project. "It also provides us with the flexibility to experiment with different layouts and scenarios, and update costs as needed. With a simple re-run, we have an entirely new network. All of these things would have been very time consuming and expensive to do manually," added Blair.

Comsof Heat has also been useful for running pre-feasibility studies and showing municipalities the possibilities for their communities. This step is particularly important in Canada, where municipality funds are often stretched and district heat is uncommon. Investing in a detailed district heating feasibility study is a non-starter for most municipalities. The working relationship between TorchLight Bioresources and Comsof Heat has been highly collaborative and productive, with the latter providing excellent support throughout the feasibility study, answering any questions that TorchLight Bioresources had and providing helpful suggestions and guidance in modelling the network.
Implications for the Future of Sustainable Energy in Canada
TorchLight Bioresources sees the benefits of a Nova Scotia-wide biomass heating strategy, which would complement the Province's wind strategy, and is planning to use Comsof Heat to determine the feasibility of this approach. They believe that this strategy will create jobs, improve energy security, and support rural communities by replacing imported fossil fuels with locally harvested biomass from sustainably-managed forests. By harnessing energy from within Nova Scotia, they will reduce the risk of being subject to political instability or price fluctuations in the global energy market, while contributing to Canada's decarbonization goals.
If you would like to read more about Torchlight Bioresource's project, please click here to look at their project website.